REMSA Board of Directors
REMSA is governed by a seven-member volunteer board of directors comprised of regional hospital leadership as well as other regional professionals including an attorney, a CPA, and community member. REMSA has strong oversight from the Board of Directors, the Washoe County District Board of Health, the EMS Advisory Board, and the State of Nevada EMS Division.
---
Shirley Folkins- Roberts, JD
Chair
Development Manager, Panattoni Development Company
Shirley has been a dedicated advocate for children with cancer since 2003. After knowing a family personally impacted by childhood cancer, she became one of the co-founders of NNCCF and served on the Board of Directors for 15 years. During the early years of the organization, Shirley provided oversight of daily operations, establishment and management of operating budgets, and development and implementation of fundraising events. As an advocate for the organization, she led the creation of a bill in 2007 to submit to the Nevada State Legislature which sought money for childhood cancer.
In 2018 she accepted the position as Executive Director for NNCCF and served for three years leading the organization through the pandemic and significant financial and program growth. As executive director for NNCCF, Shirley was responsible for developing and managing donor contributions, developing strategic alliances, creating a stable business environment, and managing community relations, all in an effort to provide advocacy and assistance for local families affected by childhood cancer.  During her tenure, the annual revenue increased by 32 percent, despite the challenges posed by the pandemic.
In 2021 she was elected to the St. Baldrick's Advocacy Advisory Committee.  This group of public policy experts, physician-scientists, and parents of children with cancer work together to advance federal legislation on behalf of children with cancer.
Shirley has resumed her position as a Development Manager at Panattoni Development Company, for which she previously worked from 2014 until 2018.  In that role she managed industrial and office development including land entitlement, tenant stewardship and oversight of project completion.  She worked closely with the legal team as well as public officials and entities in this capacity.  Shirley co-chaired the NAIOP Governmental Affairs Committee and and led teams to Washington DC and our state capitol to represent the commercial real estate industry.  In this capacity, she created and co-chaired the Northern Nevada Regional Transportation Coalition creating collaborative relationships between the private sector and state and local transportation officials.
Shirley earned her Juris Doctor from the McGeorge School of Law at the University of the Pacific and her Bachelor of Arts in Political Science from the University of California, Davis. Shirley became a member of the California Bar in 1993 and the Nevada Bar in 2010 and has practiced with private firms in both states. In 2020 Shirley was appointed to a three year term on  State of Nevada Rare Disease Council. She is a member of the Rotary Club of Reno and was named Outstanding Philnthropist in 2022 by the Association of Fundraising Professionals Sierra Nevada Chapter.
Shirley and her husband Doug truly cherish the northern Nevada community and raised two children in the area enjoying skiing, water sports, travel and local arts and music with their family.
---
Michael Pagni, JD
Vice Chair
Executive Vice President and General Counsel, Di Loreto Companies
A lifelong resident of Reno, Michael joined the Di Loreto Companies in 2022 as the Executive Vice President and General Counsel.  The Di Loreto Companies are nationally recognized, award-winning home-building and real estate development companies operating primarily in Nevada, Northern California, and Colorado.
Prior to joining the Di Loreto Companies, Michael was a partner at the law firm of McDonald Carano where his practice focused primarily on real estate and water law, corporate and transactional law, administrative law and government relations. Michael has served as outside counsel to several large public agencies in northern Nevada, including the Reno-Sparks Convention and Visitors Authority, Reno Tahoe Airport Authority, Truckee Meadows Water Authority, and Western Regional Water Commission, and served as general counsel to Governor Jim Gibbons in his 2006 gubernatorial campaign. Prior to law school, Michael served as a legislative intern for Senator Harry Reid in Washington, D.C and for Nevada State Senator William Raggio. During law school, he served as a law clerk for the Honorable Melvin Brunetti, United States Court of Appeals for the Ninth Circuit and the Honorable Howard D. McKibben, former Chief Judge of the United States District Court for the District of Nevada.  Michael remains associated with McDonald Carano in an Of Counsel position. 
Michael earned his Juris Doctor from the University of California, Hastings College of Law and his bachelor's degree from the University of California, Los Angeles. He holds a Martindale Hubbell A.V. Preeminent Rating. He was a member of the State of Nevada Standing Committee on Judicial Ethics and Election Practices from 2009-2014 where he served as Chair and Vice Chair. Michael is a Founders Club and Board Member of the Nevada Discovery Museum, as well as a board member with the Hot August Nights Foundation and is a member of the Washoe County Sheriff Honorary Deputies Association.
---
Cora Case
Treasurer
CFO at Curana Health
Cora Case has lived in northern Nevada since 1989. She started with Renown Health in 1996 in the billing office then worked in successive finance roles during her tenure until 2017. She was then hired as the CFO for a large medical group in Las Vegas owned by Davita; then she was promoted in 2020 to the CFO for Ambulatory Services at Intermountain Healthcare in Salt Lake City. She served in this role until 2022. She is currently the CFO for Curana Health, dedicated to providing enhanced care for seniors in post-acute care facilities. She earned her PhD in Health Policy in 2016 from Walden University and is a Certified Management Accountant (CMA).
Cora and her husband have been married since 2009 and live in north Reno. They have a passion for classic Volkswagens and plan most of their vacations around VW car shows, camping excursions, and spending time with close friends that share the same hobby.
---
Louis Test, Esq.
Secretary
Shareholder for Hoffman & Test
Louis Test was born and raised in northern Nevada. He attended Southside Elementary School, Central Junior High School, Wooster High School, and the University of Nevada, Reno where he graduated in 1971. He went on to complete his education at McGeorge School of Law, where he graduated in 1974. From 1975 through 1983, he served in the Active Reserve as a Medical Service Officer for the Army doing field work and logistics, and training medical personnel in Winnemucca and Reno, Nev. Louis brings nearly 50 years of experience practicing law including as the Reno City Attorney from 1979 – 1983. After that, he joined the law firm of Hoffman and Test which just recently merged with the law firm of Holley Driggs, LTD. He served on the Board of Governors for Shriner's Hospital in Sacramento for nine years, including a term as chair. Louis is a past president of the Alumni Association at the University, a Past President of the Nevada Agricultural Foundation and a member of the Dean's Advisory Group for the College of Agriculture. He and his wife Joni, also a northern Nevada native, have been active leaders in 4H for more than 30 years. He has two adult children, two grandchildren and is a 33rd-degree Mason – a distinct honor recognizing significant service, as well as personal and professional contributions.
---
Katie Grimm, RN, BSN, MBA
Board Member
CNO, Northern Nevada Medical Center
Katie Grimm is Chief Nursing Officer (CNO) at Northern Nevada Medical Center. Katie has 20-plus years of healthcare leadership, specializing in building high performing teams who achieve remarkable results.
Prior to this role, Katie was the Chief Nursing Officer at Saint Mary's Regional Medical Center for seven years and held other leadership positions at the organization for a total of 18 years. During her time in Reno-Sparks, she was able to achieve numerous accolades and develop process improvement efforts. Katie earned her bachelor's in nursing from the University of Nevada, Reno and her master's in business administration from Walden University.
---
Derrick Glum, MBA, FACHE
Board Member
CEO of Saint Mary's Health Network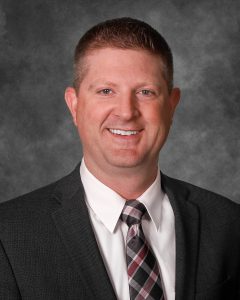 Derrick Glum is the Chief Executive Officer for Saint Mary's Health Network. He joined Saint Mary's and Prime Healthcare with nearly 20 years of healthcare experience, most recently serving as the Regional Chief Operating Officer/Hospital Administrator for two hospitals in the greater Phoenix area – Mountain View Medical Center and Florence Hospital. During his time in Arizona, Derrick successfully implemented strategic and logistical tactics aimed at improving operational efficiency and saw dramatic improvements related to hospital performance and patient satisfaction. Prior to that, Derrick also served as a System Vice President for Renown Health and was the CEO of Tahoe Pacific Hospital in Reno, Nevada.
---
Chris Nicholas, FACHE
Board Member
CEO of Renown Regional Medical Center
Born and raised in Fort Worth, Texas. Chris completed his Bachelor's degree in Business Management at Texas Tech University and then his Master's of Science in Healthcare Administration from the University of Texas Arlington.
Chris began his career in healthcare as a skilled nursing facility administrator operating multiple facilities in Texas and Nevada before transitioning to inpatient rehabilitation hospital leadership with Renown in 2016.
Over the last seven years, Chris has served Renown by building high-performing teams and leaders focused on driving quality, service, and financial outcomes. Prior to serving in his current position, Chris was Vice President and Administrator of Renown South Meadows Medical Center and Neuroscience Service Line after being promoted from the Senior Administrator of Rehab Services position, leading post-acute services and partnership.
Chris' dedication to improving health care using data, innovation and technology has inspired teams to work together to achieve significant results that have benefitted many.
His wife Denise and young daughter Maddi love calling Reno home. As an avid outdoors person, Chris enjoys the many opportunities and access to hiking, mountain biking, and snowboarding that Reno provides.
---